[:es]
Me llamo María Cintora. Siempre recuerdo mi fascinación por encontrar caminos que me llevasen a conectar mi persona, cosas, circunstancias etc, y así poder tejer una red en donde ese Todo, tuviera un sentido.
Nos sorprendemos cuando se producen conexiones externas, las llamamos "casualidades" y con suerte las entrelazamos unas con otras.
Siempre he pensado en lo maravilloso y lo afortunados que seríamos si fuéramos capaces de reproducir esas mismas experiencias en nuestro propio cuerpo, y sentir esas mismas conexiones para hacer un viaje en la propia geografía de nuestro cuerpo. En esa dirección trabaja la Terapia Cráneo-Sacral, de ahí mi fascinación por ella.
Desde 2004 llevo dedicándome a la Terapia Cráneo-Sacral y a la Liberación Somato Emocional.
Mis estudios terapéuticos empezaron gracias a la Medicina Tradicional China , el Shiatsu Zen y posteriormente Balance Polar Electromagnético, completando mis estudios con Manipulación Viseral.
Actualmente estoy trabajando en el Instituto Policlínico Seoul, en Barcelona.
He trabajado en el campo de la docencia con actores y bailarines ayudando a que sus cuerpos se movieran desde una conciencia y un sentido interno.
Siento gratitud cada vez que un paciente decide abrirme un rinconcito de su persona para emprender un viaje hacia el bienestar personal.
[:ca]
El meu nom és Maria Cintora. Sempre recordo la meva fascinació per trobar camins que em portessin a connectar la meva persona, coses, circumstàncies i, d'aquesta manera, poder teixir una xarxa on aquest Tot, tingués un sentit.
Ens sorprenem quan hi ha connexions externes, les anomenem "casualitats" i, amb sort, connectem les unes amb les altres.
Sempre he pensat que seria meravellós i afortunat, si fóssim capaços de reproduir aquestes experiències en el nostre cos i, sentir les pròpies connexions, per fer un viatge dins la geografia del nostre cos.
En aquesta direcció treballa la Teràpia Crani-Sacral i, d'aquí neix la meva fascinació per aquesta.
Desde el 2004 treballo amb la Teràpia Crani-Sacral i l'alliberament Somatoemocional.
Els meus estudis terapèutics van començar amb la Medicina Tradicional Xinesa i el Shiatsu Zen i, més tard, amb el Balanç Polar Electromagnètic, completant els meus estudis amb la Manipulació Visceral.
Actualment treballo a l'Institut Policlínic Seoul, a Barcelona.
He treballat en el camp de la docència amb actors i ballarins, ajudant a que els seus cossos es moguessin des de la consciència i el sentit intern.
Sento gratitud quan un pacient obre un racó de la seva persona per emprendre un viatge cap al benestar.
[:en]
]My name is María Cintora. I always remember being fascinated by the idea of finding ways that would let me connect with myself, my things, my circumstances, etc., and thus be able to knit a net where that Whole made sense.
We are always surprised when external connections happen, and we call them «coincidences», and sometimes we manage to link one to another. I always thought how wonderful, how lucky we would be if we were able to re-produce these same experiences within our own body, and feel the same connections travelling through our own body's geography. This is the way in which Craniosacral Therapy works, and the reason for my fascination with it.
I have been devoted to Craniosacral Therapy and the Somato-Emotional Release for over a decade, and I am also trained in Visceral Manipulation.
My health studies began with Traditional Chinese Medicine, then Zen Shiatzu and later Electro-Magnetic Field (EMF) Balance.
Nowadays I work at the Instituto Policlínico Seoul, in Barcelona.
I have also worked as a teacher with actors and dancers, helping them find the way in  which to move their bodies from an internal conscience and awareness, rather than from a mere external display of movement.
I am grateful every time a patient decides to open a small door for me in themselves, to begin a journey together.
[:]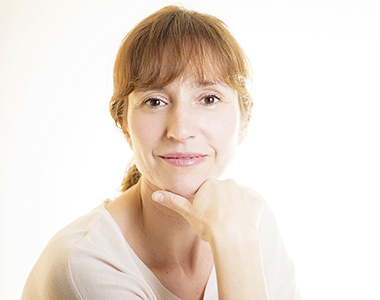 María Cintora
[:es]Terapeuta Cráneo-Sacral[:en]Craniosacral Therapist[:ca]Terapeuta Crani-Sacral[:]
---
[:es]Descubriendo el bienestar a través de un contacto respetuoso.[:ca]Descobrint el benestar mitjançant un contacte respectuós.[:]